Church Street
Nashville, TN, 37219
(931) 548-0368
By Appointment Only - We Come to You!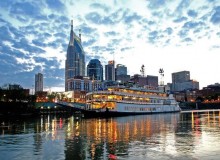 Nashville is the second largest city in Tennessee, and fourth largest in the southeastern U.S., with a total metropolitan population of roughly 1.6 million inhabitants. The city circumferences the Cumberland River in the north-central portion of the state and has become known for its achievements in health care, publishing, transportation and banking industries. Most notably, however, it has become a center for music culture throughout history and even today, gaining it the nickname the "Music City."
The city plays host to a wide selection of public and private secondary schools throughout its education system, with a plethora of post-secondary institutions for local and national students to choose from. It is often coined the "Athens of the South," in reference to the Greek city of Athens, because of the high number of colleges and universities that call Nashville home. Among these include American Baptist College, Belmont University, Tennessee State University, Nashville School of Law, Vanderbilt and more.
With a total post-secondary enrollment of more than 75,000, it is easy for students of this culturally diverse city to succumb to being overlooked by competition. As more and more students flock to Nashville's highly esteemed academic climate, the battle to outshine the rest will only stray further and further away from a walk in the park.
With the help of Parliament Tutors, we guarantee to nurture our students to become the best of the best. Our programs offer a wealth of private tutoring and test preparation services in Nashville for students of all calibers. Whether you are searching for subject specific tutoring or standardized test preparation, we have a specialist available in all levels of education and all academic subjects.